METCALF MOVING BLOG
October 12, 2016
How To Move a Range or Stove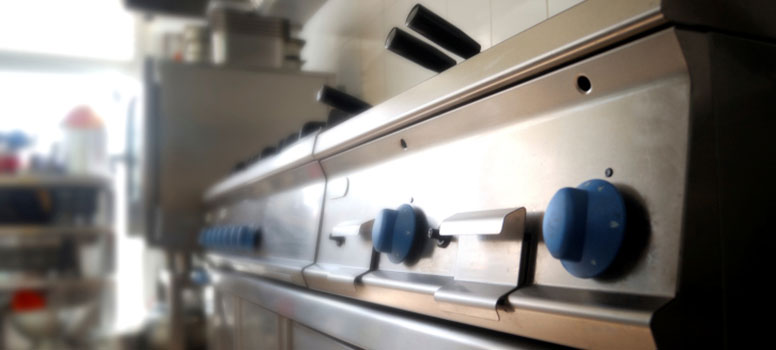 Moving a Stove or Range? Here's How to Do It Safely.
Mayflower does not recommend moving a stove without the assistance of a qualified technician.
Stoves or ranges are easily damaged in a move due to their utility connections, glass or ceramic tops, intricate parts and polished finishes. The safest way to move your stove is to first give it a thorough cleaning well before your move date. Then, allow an appliance technician to service and prepare your unit for the move with the special handling it requires.
Step 1: Perform a heavy-duty cleaning
Use a washrag and mild detergent to wipe down the outside of your stove so that it is free of grease and residue.
Remove all detachable parts such as knobs, drip pans, grates, plug-in coils, oven racks and broiler pans. After cleaning as needed, put them in a separate, clearly marked box for transport.
Next, follow the manufacturer's guidelines for cleaning your stove. Typically, this means raising the range and cleaning underneath it with a degreaser, followed by hot, soapy water. Observe manufacturer guidelines to clean the inside of your oven as needed.
Insider tip: Does your unit have a stainless steel finish? If so, use a steel protectant before wrapping it in appliance pads.
Step 2:  Consult a professional to disconnect your appliance 
High voltage electrical and gas connections must be handled with expert care. If you prefer to have your Mayflower move coordinator make arrangements for a third-party appliance technician to service your stove before moving day, you may authorize him or her to do so. You can be confident you will get a trusted provider when you go through Mayflower.
Be aware, this service is not included in your original estimate and will be added to your Bill of Lading as an additional cost. Before moving day, your range must be disconnected and ready to go.
 
Step 3:  Engage a technician to re-connect your stove at your destination
Once you reach your destination, you will need a qualified technician's support to reconnect your stove.
If you have an electric range, the power supply must be checked for the current electrical requirements. Some ranges have different voltage needs.
If you have a gas range, you will need someone experienced to install it and check your gas supply. Your range will need to be connected to the gas line. Any openings must be sealed and other re-connection procedures may be required.

Important note about what Mayflower can and cannot do when moving appliances:
If any of your appliances are not ready for transport on moving day, please keep in mind that your Mayflower movers are unable to help you disconnect, service or reinstall appliances.
If you'd like to know more about how to pack kitchen appliances, food and other kitchenware, see these pages:
Source: https://www.mayflower.com/moving-tips-tools/tips/packing-tips/stove-range