METCALF MOVING BLOG
October 7, 2016
How to Move a Refrigerator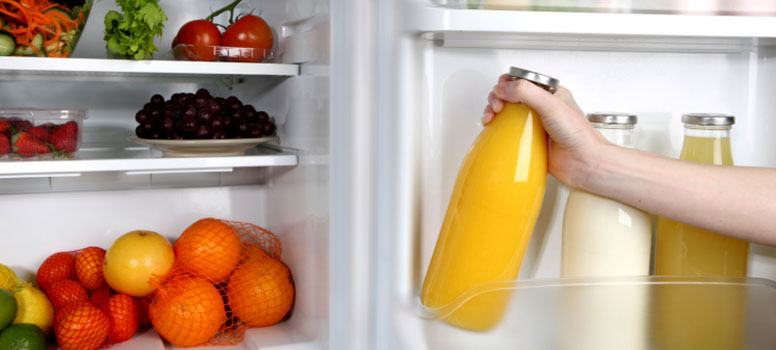 Is your refrigerator or freezer coming with you to your new home? You will need to be sure it is disconnected and ready for transit before moving day. This includes heavy-duty cleaning and servicing. Here are our tips on how to move a refrigerator or freezer, covering everything from cleaning to reconnecting at your destination.
Step 1: Heavy-duty cleaning 
Remove and dispose of all perishable items in your refrigerator and freezer. In most cases, these contents will fall under Mayflower's non-allowables (with possible exceptions for moves under 150 miles). Consult with your move coordinator about any options for shipping food and beverages.
Defrost the freezer, keeping in mind that it may create more water than your overflow reservoir can handle. Before this happens, locate the drain hose on the bottom of your freezer and find a way to channel the water away from the unit. If all else fails, have towels ready.
Wipe down the refrigerator and freezer completely with a damp cloth and mild cleaner until completely free of food residue. Internal parts such as removable shelves and drawers can be soaked in warm water and detergent. Ice trays and storage bins should only be washed in lukewarm water, unless otherwise directed by the manufacturer.
Once thoroughly cleaned, leave your refrigerator and freezer doors open for at least 24 hours to ensure the appliance is completely dry.
Step 2: Securing hardware for the move 
Secure all parts that could become loose and shift during transit. Tape drawers and compartments shut.
Pack glass shelves carefully in a separate box with the proper packing supplies.
Place a box of baking soda in your refrigerator and another in your freezer to absorb odor and mildew ─ but be sure to remove it on the day of the move so it doesn't spill during transit.
Before closing the doors, wipe down all surfaces with a dry towel one last time.
Step 3: Appliance servicing prior to move
Many large appliances have high-voltage electrical connections that require the attention of a qualified technician. It is recommended that you enlist a specialist to service and prepare your refrigerator and/or freezer for transport.
If you need assistance, your Mayflower move coordinator can make arrangements for your appliances to be serviced by a trusted third-party technician. Any service such as this will be added to your Bill of Lading and will likely result in an additional cost.
Before your refrigerator or freezer is serviced, remove the base covering and vacuum the dust on the condenser or compressor. If there is water in the evaporator pan, empty it and dry the unit before replacing the base cover.
Your service technician will turn off the water and disconnect the water line. The water reservoir will need to be emptied.
This does not apply to most modern refrigerators, but older refrigerators may need to have the motor or compressor bolted down for safer transit.
Step 4: Reconnecting appliances at your destination
Once in your new home, do not operate your refrigerator or freezer for at least 24 hours after delivery. This prevents potential damage to the compressor by allowing sufficient time for oil to settle.
If you have an ice maker or water dispenser, you may need to have a qualified technician install copper tubing and special parts to accommodate your refrigerator in your new home.
Once you are connected to a water source, remember to dispose of the first few batches of ice due to possible impurities.
Important note about what Mayflower can and cannot do when moving appliances:
Remember that if your appliances are not completely ready for transport on your scheduled moving day, your Mayflower movers are unable to help you disconnect, service or reinstall them.
Source: https://www.mayflower.com/moving-tips-tools/tips/packing-tips/refrigerator-freezer