CONTACTLESS MOVING
Do-It-Yourself Moving Options That Protect Your Possessions and Your Health
With Metcalf Moving & Storage we can offer Contactless Moving Options via our SAM Container Moving Program:
For local moves in the Twin Cities…It is as Easy as 1-2-3: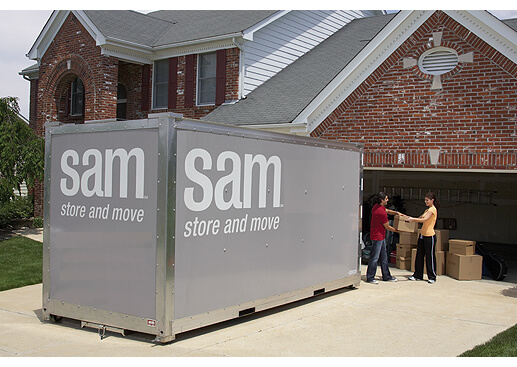 1. Deliver Container – Convenient and easy to use, SAM (Store And Move) keeps the things you care about safe and secure. You can load and unload at your own pace, at ground level, which is so much easier than loading a rent-a-truck.
2. Pack -Our sanitized moving containers are approximately 16′ long, 8′ wide and 8′ high and hold the contents of a typical 1,500-square-foot home (basement, garage, patio and attic items may require an additional moving storage container). Just load your belongings into the moving container. Our sturdy, portable moving and storage containers are constructed with waterproof materials and designed with moving in mind. Use our unique tie-down rings to secure your belongings and prevent shifting while moving. There's no truck to drive or a trailer to pull – when you're ready to move, Metcalf Moving & Storage can take SAM where you want it to go in the Twin Cities local area.
3. Unload – Store your moving container at your new location while you unload at your pace. Simply call us to pick up the container when you are done.
Fill out the "Receive A Free Quote" below pick "SAM Container" to get started.
Click here for more COVID-19 Moving Tips and Full Service Moving Services

Ron was a great representative!…All calls and emails were answered right away. We were very pleased with our move and all the people involved.
- Thomas & Estelle M.
We are open for business as usual while we prioritize the health of our customers and employees above all else. We also offer virtual surveys for all of our customers so you can receive a quote while staying at home and practicing social distancing.
Read more about our COVID-19 safety precautions.
.