TRADE SHOW & EXHIBIT MOVERS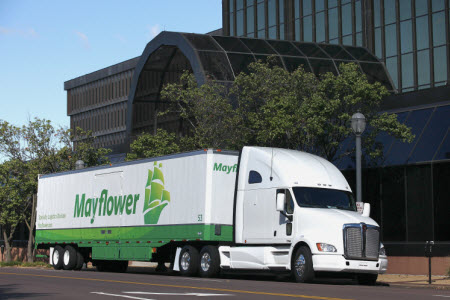 At Mayflower, trade shows are a full-time endeavor and a business priority. Mayflower enjoys one of the best reputations in the trade show shipping/transportation industry with consistent service, on-site representation, and centralized coordination.
Our drivers take pride in safeguarding every exhibit, providing pad-wrap service when extra protection is needed. For even greater safety, every trailer is air-ride equipped, which reduces vibration and helps assure damage-free deliveries. If needed, special equipment such as climate control and lift gate trailers are also available.
Field Service Representatives
Mayflower maintains a trade show field service program that provides show site support throughout the United States.
Mayflower's on-site representatives:
Live in and represent the major show cities
Are present on the show floor and in the marshalling yard during the important move-in and move-out periods of major shows
Have a solid rapport with drayage companies
Have an understanding of convention center practices
Help exhibitors ease their way in and out of show halls
Centralized Trade Show Coordinators
Mayflower's centralized trade show services department is responsible for coordinating every trade show shipment that passes through our dispatch system.
Contact us and speak to a consultant about your next exhibit shipment.

Aaron was a good guide…timely & patient. Donnet provided excellent service and continued to check in on us during & after move
- Anne Marie & Rich T.
We are open for business as usual while we prioritize the health of our customers and employees above all else. We also offer virtual surveys for all of our customers so you can receive a quote while staying at home and practicing social distancing.
Read more about our COVID-19 safety precautions.
.