METCALF MOVING BLOG
December 13, 2016
How to Pack Soft Goods
---
Sheets and Blankets are susceptible to mold and insects.
Soft goods include textiles such as blankets, towels, bedding, linens, drapes, curtains and rugs. Your soft goods are especially vulnerable to threats like moisture, mold and insects.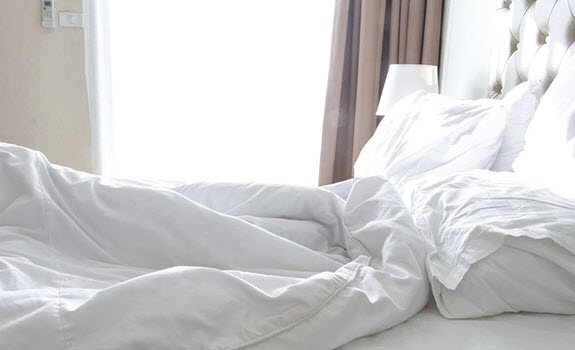 Rugs:
Clean and vacuum before moving day.
Roll up large rugs and wrap them in plastic for transit. The plastic will protect them from potential damage.
If you can't wrap them, leave them on the floor for your Mayflower movers to handle.
Drapes and curtains:
Clean your draperies prior to move. They can be packed in plastic bags for protection.
Did you know that wardrobe boxes are a great way to move your curtains and drapes? Simply fold them lengthwise, then place them over a padded hanger and pin them in place. When you arrive at your destination, your curtains will be as wrinkle free as everything else in your wardrobe box!
Linens and bedding:
Fold your clean linens and bedding and pack them in plastic bags. They can then be placed in boxes.
It is a good idea to use a special mattress cover or carton to protect your mattress during the move. Ask your Mayflower move coordinator about options.
 Pillows: 
Any pillows that you aren't taking with you in the car can be packed in dresser drawers or placed in plastic bags along with your linens and bedding.
Blankets and towels:
Blankets and towels can be packed as linens and bedding, but they are also well suited for use as packing material. Be sure to set some of these aside to help pad your boxes as needed.
Read more moving tips here:
Source: https://www.mayflower.com/moving-tips-tools/tips/packing-tips/shoes