METCALF MOVING BLOG
May 14, 2016
How to Pack Small Appliances
Items such as blenders, radios and clocks should be packed with plenty of padding to keep their electronic components safe from damage. Appliances should be wrapped and packed in a box padded with newsprint.
Most people use their small appliances fairly often, so what can you do to prevent damage to them during a move? Read on for our tips on safely moving small appliances.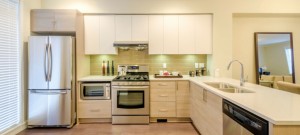 How can you keep small appliances safe in a move? 
Pack everyday small appliances like clocks and radios with extra padding to protect their electronic components.
Wrap each item individually.
It's fine to pack your small appliances in the same box.
Pad with towels for safer transport.
Take care that cords will not scratch other appliances. Wrap cords around their respective appliances.
Remove any batteries from appliances before packing.
If you are packing a steam iron, empty its water and dry it out before wrapping it for the box.
Source: https://www.mayflower.com/moving-tips-tools/tips/packing-tips/small-appliances