METCALF MOVING BLOG
November 15, 2016
Moving Wine? How to Move Wine Collections Safely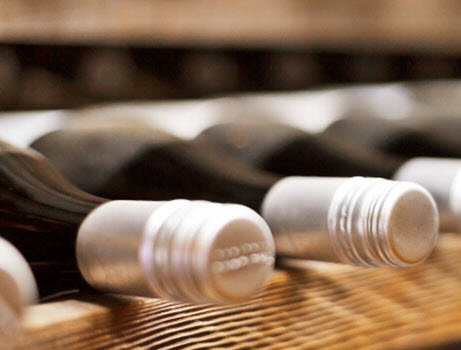 Moving a wine collection just may be the only potential drawback of having one. Fine wines are hypersensitive to movement, humidity, temperature and exposure to light, any of which can threaten their character and chemistry. To protect your investment ─ and avoid ending up with a lifetime supply of vinegar ─ advance preparation is required to arrange for special handling of your wine collection during a move.
Here are our tips to protect your most delicious collection from harm during a move, based on our decades of moving experience.
Step 1: Consult a sommelier or qualified wine appraiser
If you have a high-value wine collection, it's important to have it professionally appraised before your move, just as you would any other treasured collection.
You can locate a wine appraiser through a local merchant who sells collectible and high-value wines. A qualified appraiser should have passed the Uniform Standards of Professional Appraisal Practice (USPAP) and be listed with The Appraisal Foundation, or the American Society of Appraisers. When choosing an appraiser, ask about their fees. Many charge by the hour, but may agree to a flat fee.
As with any high-value collection, it is a good idea to document your inventory of wines with clear photographs and video, to simplify any potential claims. You may also want to create a list of each wine.
Step 2: Do some legal research about shipping wine
Be aware that states differ in alcoholic beverage regulation. You will need to check with state alcohol control authorities at your destination prior to your move. Some states have restrictions on the amount or type of alcohol that you can bring in for personal use, including Delaware, Pennsylvania, Kentucky, Alabama, Mississippi, Arkansas, Oklahoma, South Dakota and Utah, as of this writing. Often, though, states will make allowances for private wine collections being moved with household goods.
Step 3: Discuss your wine collection with your agent
When your agent visits for an in-home estimate, let them know that you will be moving a wine collection.
If the value of your collection exceeds id="mce_marker"00 per pound, you will need to include your collection on your High-Value Inventory Form. Your Mayflower agent will provide this form during the in-home estimate and you will review it with the driver on the day of your move. The agent will also explain the available options to protect your collection. Using the valuations from your appraisal, you can choose an insurance plan that works best for you.
Step 4: Properly pack your bottles before moving wine
Individually wrap each of your wine bottles and place them in an insulated box. This will ensure your wine reaches its new home undisturbed. Mayflower offers specially designed boxes to pack glass bottles. Will you be packing your wine? You can purchase these boxes from your local Mayflower agent.
Important wine packing tips:
Do you have any opened bottles? Be sure to set those aside, as they cannot be shipped with the rest of your inventory.
Corked wines should not travel right side up. Place them on their sides or upside down in order to keep the corks wet and prevent oxidation or spoilage. However, note that Champagne and other sparkling wines should be kept upright.
Allow wine bottles to rest after arriving at your destination for at least seven days. If your wine was in transit for more than one day, add an additional seven days of rest for every one day the bottles were in transit. This is to prevent a loss of flavor from bottle shock, which occurs when the bottles move, despite the most careful packing.
Step 5: Consider climate control options for moving your wine
The taste and appearance of your wine may be affected by the environmental changes that occur when moving through different climates. Older, red wines in particular, have delicate characteristics that are vulnerable to shifting temperatures. Most wine experts recommend a consistent temperature of 55 degrees when storing and transporting wine collections that include these more valuable red wines. Less expensive wines and white wines are not as susceptible to damage from temperature changes.
If you have a small collection of wine, it may be best to transport your collection in an air-conditioned car if possible, where you can control the temperature.
If you have a large and valuable collection of wine, a climate-controlled van is the best solution to protect your investment. Keep in mind that arrangements for climate-controlled vans must be made well in advance and will likely require a significant additional cost. Consult your Mayflower agent for details about this option.
An important consideration when moving wine:
If possible, plan your move around the seasons. The best time to move a wine collection is in early spring or late fall. This allows you to avoid the extreme highs and lows of summer and winter temperatures that could prove disastrous for your wine. If your move must take place in summer or winter, consider using a commercial airline to transport your wine. Your Mayflower move coordinator can arrange for professional packing and assistance.
Step 6: Check your inventory of wine after arriving at your destination
Upon reaching your destination, carefully check your wine collection against the inventory form your van operator prepared before loading. If there is any loss or damage to your belongings, carefully note it on the inventory form prior to signing for receipt. Then, contact your Mayflower agent to assist you in completing a claim.
Keep these tips in mind and your wine collection will make it safely to your new home, ready for you to enjoy for many years to come.
For additional tips on how to move antiques, collectibles and fragile items, see:
Source: https://www.mayflower.com/moving-tips-tools/tips/packing-tips/appliances