MINNEAPOLIS TO WISCONSIN MOVERS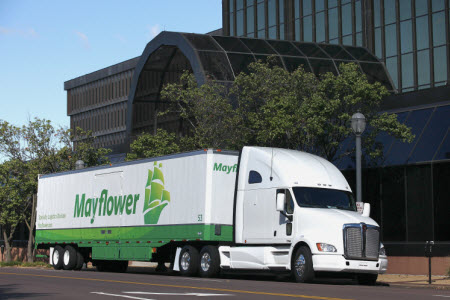 Moving Minneapolis to Wisconsin
Are you planning to move between Minneapolis and Wisconsin? Look no further than Metcalf Moving & Storage! We provide fast and efficient relocation services between Minneapolis and Wisconsin that are tailored to your specific needs. Whether you're making the move for a job, lifestyle change, or any other reason – we've got you covered.
To get your move started, request a free moving quote today!
Long Distance Mayflower Moving
Metcalf Moving & Storage is proud to offer our customers specialized Mayflower moving services for all of their long distance relocation needs. Our experienced and knowledgeable moving professionals will ensure that your move is as seamless as possible. With our modern equipment and efficient processes, we can get you to your new home in no time.
We understand that long distance moves require a lot of preparation and coordination. That's why we offer comprehensive Mayflower moving services such as packing/unpacking, vehicle shipping, storage, and more. Let us take care of the details so that you can focus on getting settled into your new home!
Secure Storage Solutions
If you need a secure storage solution during, before or after your long distance move, look no further than Metcalf Moving & Storage. We offer both short-term and long-term storage solutions at competitive rates. Our modern warehouses are equipped with the latest security systems to ensure your items are safe and secure. We also provide climate controlled storage solutions for temperature sensitive items such as photographs, antiques, and more.
Flexible Moving Services
Metcalf Moving & Storage offers flexible moving services to meet the needs of our customers. We understand that each move is different and requires a personalized approach. That's why we offer customizable plans to suit your budget, timeline, and needs. From packing/unpacking to partial loads to Mayflower moving services – we can do it all!
If you're looking for reliable Minneapolis to Wisconsin movers, contact Metcalf Moving & Storage today to get your move started with a free moving quote!

Terry the driver was in my opinion one of the best in the business. We have used Mayflower three times in our lifetime and would recommend Mayflower to all of our friends and relatives.
- Fred V.
We are open for business as usual while we prioritize the health of our customers and employees above all else. We also offer virtual surveys for all of our customers so you can receive a quote while staying at home and practicing social distancing.
Read more about our COVID-19 safety precautions.
.