METCALF MOVING BLOG
October 3, 2016
How to Move Antiques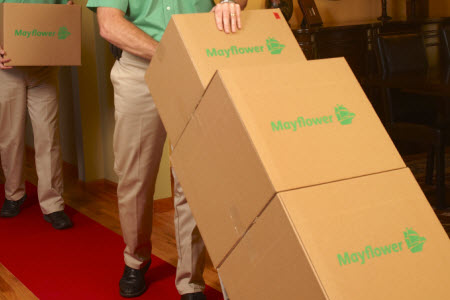 Antiques and collectibles are often prized as much for their sentimental value as for their monetary value. Between the two, your antiques are likely irreplaceable. With careful planning, you won't have to.
Mayflower has been helping people move since 1933, possibly before some of your vintage collectibles were even made. Here are our tips to protect your most precious treasures from harm during a move, based on our decades of moving experience.
Step 1: Get your antiques and collectibles appraised 
You should have any exceptionally valuable property appraised prior to your move. You may already be required to do this for homeowner's insurance purposes, and you may want to seek more than one appraisal.
Find a reputable, certified appraiser through the American Society of Appraisers at www.appraisers.org, or simply ask for a recommendation from your insurance agent, bank official or attorney. Ask the appraiser how they charge in advance; most charge a flat fee or an hourly rate.
Supplement the appraisals with clear photographs of your antiques and a room-by-room inventory of your collection on video before your move. Be sure you get clear, high quality and well-lit video footage of your items. Prior video documentation of high-value and antique items is very important to verify a claim, should something be damaged in a move.
Step 2: Discuss your moving protection plan with your Mayflower agent
When your Mayflower agent comes to give you a moving estimate, carefully point out the high-value and more fragile items (i.e. grandfather clocks, silver, china) so that any special packing and custom-built crating arrangements can be made in advance for additional protection.
Use the appraised value of your antiques and collectibles to discuss with your agent what type of insurance is most suitable.
Items of extraordinary value (defined as items worth greater than $100 per pound) should be listed on Mayflower's High-Value Inventory Form. As you verify this inventory, document any signatures, noteworthy manufacturer marks or serial numbers on your items.
Step 3: Prepare to appropriately pack antiques 
Do your antiques require special cleaning prior to your move? You may wish to check with a local antiques dealer or furniture store for cleaning products designed for fine furniture.
Be aware that products like oil and wax may soften the finish on your wood furniture and make it vulnerable to imprinting (even from soft furniture pads). For this reason, you should avoid using these types of products prior to a move, particularly if your furniture will be in storage.
Not sure what to do about a particular piece? Try consulting an antiques dealer.
Have questions about moving logistics or want to reconfirm details? Consult your Mayflower move coordinator.
Step 4: Decide on moving day and pre-moving day packaging for protection 
Your Mayflower agent and move coordinator can confirm which items are scheduled for special and custom-crated packaging on moving day. For furniture, most large, heavier pieces will be protected with thick furniture pads.
You should plan to be present for all packing and moving so that you can identify any items that require special handling. It also helps to be available for any questions that packers and van operators may have along the way. If you are unable to be there, you should ensure than an appointed adult representative is available.
Step 5: Supervise unloading and delivery at your destination

At your destination, carefully check all of your antiques, collectibles and other household goods before signing for receipt. Should you need any servicing, reassembly or to file a claim for damage, your Mayflower agent is available to help you.
Follow these steps carefully and your most prized possessions should make the move without suffering any damage. With a little extra advance planning, your antiques are likely to outlive you.
For additional tips on how to move antiques, collectibles and fragile items, see:
Source: https://www.mayflower.com/moving-tips-tools/tips/packing-tips/antiques